The Year of the Hangman Discussion Preparation and Invite
The Book Blog Starts in two weeks, January 23rd, 2007.
Between now and then, we will be doing exploratory assignments both in class and at home in order to prepare.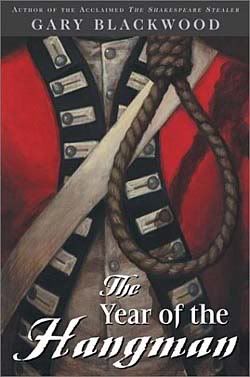 Hello and welcome to The Year of the Hangman book discussion. We are getting set for the January 23rd launch of the book discussion. A majority of the participants in this book discussion will be students from Westpine Middle School, but we encourage students, parents, teachers and community members from all over the world to join us as we read this book over 4 weeks (from January 23rd to February 19th, 2007). Mr. Moshé, an 8th grade Critical Thinking teacher, will be the facilitator and moderator for this book discussion.
While you are getting ready to start the book blog check out the author Gary Backwood's site. He's written other great books including: The Shakespeare Stealer, Shakespeare's Scribe and Wild Timothy.
******** AN IMPORTANT NOTE ON MY SOURCE(S) and Copyright ********
This discussion, from start to finish, relies heavily on another book discussion that was created and moderated by an 8th grade teacher in another state. Although some of the discussion points will be altered in order to be appropriate for students working in South Florida, most of the structure and verbiage is the same. I have done my research concerning copyright infringement, and it seems like I am operating within the limits of the law. In other words, I'm not breaking the law.
In an effort to curb cheating, I am not citing that person or that URL here. Only a parent/guardian will be furnished information about the originator of this discussion framework, please email me directly at moshej@browardschools.com. Thank you for your understanding.